Sexual Harassment in the work place
Just completed another course with e-learning at work. This a really useful course, a lot to take in, but an essential topic. I would encourage EVERYONE to undertake this training, then hold your employer to account. In the light of everyone's invited I would encourage Parent / Guardians to do the same, so that schools can be held to account too.
The third case study is very disturbing for another reason. Nothing was mentioned about those staff members (inc the headteacher) being struck off from teaching given what happened. You need to do the course to find out more.
This course will start by defining sexual harassment and explaining how protection comes from both employment law and criminal law. You'll see from workplace statistics how widespread and serious the problem is, and how the management response to concerns raised is often poor or non-existent. It also addresses how allegations should be handled, explains the importance of having clear and robust policies and the role line managers tend to take when it comes to dealing with these situations. The course also covers investigation from the employer's perspective, the role of employment tribunals, and concludes with some case studies that will give further insight into what constitutes harassment and the outcome of cases where the businesses did not act appropriately to deal with this behaviour.

Certificate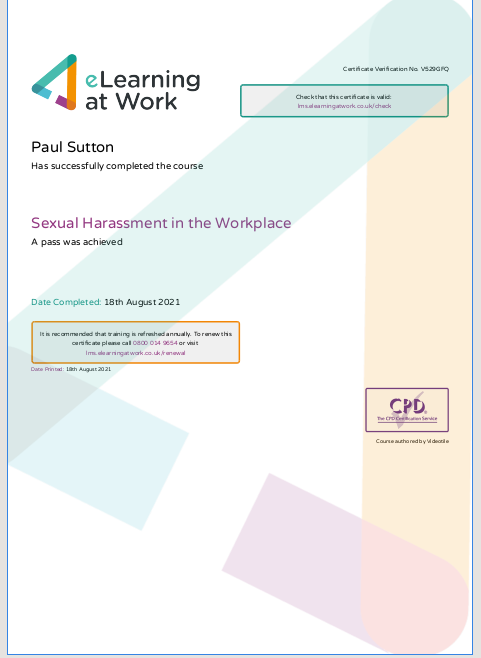 Links
Tags
#CPD,#SexualHarassment,#WorkPlace,#Law,#UK,#ELearningAtWork, #Training
---