Nextcloud desktop
As I have been using Disroot e-mail for some time. I have also been using their cloud service for file storage.
As This uses NextCloud. I have installed the desktop client in order to help keep some files synchronised between my netbook and desktop.
nextcloud-desktop/stable,now 2.5.1-3+deb10u1 amd64 [installed]
  Nextcloud folder synchronization tool


This is working very well. I can sync files to the cloud and download them on another connected device.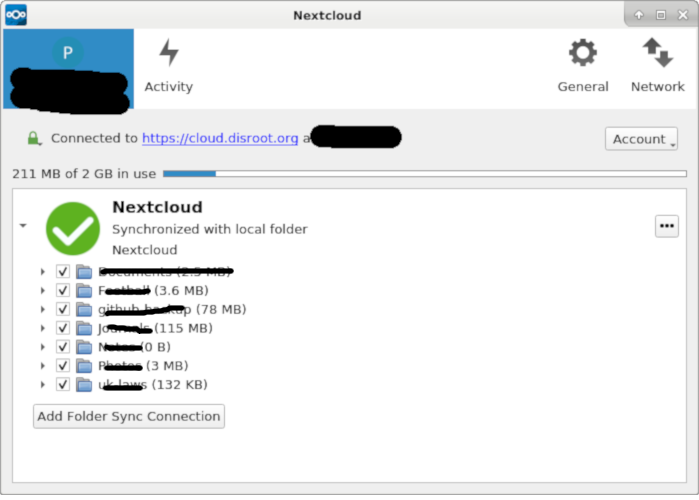 Connecting devices is really easy and is a case of knowing the URL of the service. Then just giving the client the appropriate credentials (as in uid / password).
You get a new folder in /home/user/ which anything copied or moved in to this is sync'd. Remember if you want to keep a copy locally you should copy and paste the file. Otherwise drag & drop will move files.
There is also a green icon in the `panel' which is illustrated below.
As xfce4 allows emblems to be added to files / folders then I have set two, so that this folder is easier to identify. I need to add my 2nd disroot account too, but no rush for that.
Conclusion
If you are looking for a privacy centric alternative for file storage then NextCloud is a great option. Services such as OnlyOffice also integrate in to this to provide a full cloud based office solution.
While you 'can' self host you can also take advantage of many solutions that will take care of this for you.
You can also host in a Docker container.
Version 20 of next cloud also includes Dashboard which has a host of really useful features.
If you live within the UK / EU then you may also want to host within this jurisdiction, in order to help comply with the GDPR.
References